The department started offering BSc Textile in 2013, MSc Textile and Materials Engineering in 2020 and PhD Textile Engineering in 2021 with highly qualified faculty and well-equipped laboratories. There are more than 100 lab scale equipment installed at the department of textile engineering in 12 labs. Experienced faculty and lab staff are working at the textile engineering department. There is 100% job placement for UET Textile graduates. Graduate of the textile engineering department are currently working in some of the top textile mills of the country like Nishat, Sapphire, Azgard 9, Interloop, CBL, Artistic, Ibrahim Fibers, Master, Masood, US denim, Cotton web, Gohar, Kamal & TTI as well as in Government Organizations. On 19th May 2021, department of textile engineering organized the 4th International Conference on Sustainable Textile for the fourth consecutive year (https://conferences.uet.edu.pk/textile/icst/2021/ ). Last year (2020) three mega events of textile (3rd International Conference on Sustainable Textile, Pakistan region SDC-UK textile design competition for students & Top Pakistani Textile Brands Tribute) were attended by around 1000 participants form textile industry and universities. 
The textile sector in Pakistan has an overwhelming impact on the economy, contributing 60% to the country's exports and 46% of the total industrial production. This sector also provides employment opportunities to 45% of country's workforce, which is one of the highest. In today's highly competitive global environment, the textile sector needs to upgrade its supply chain, improve productivity, sustainability and maximize the value-addition to be able to survive. It cannot be thought of without competent professionals in the relative field. Faisalabad campus is privileged over other campuses of UET for holding a degree awarding department in Textile field.
BSc Textile Engineering course is based on Outcome Based Education (OBE). The course of study is the composite one and cover all four section of textile.
Spinning (Yarn Manufacturing)
Weaving (Fabric Manufacturing)
Wet Processing (Pre-treatment, Dyeing & Finishing)
Garment Manufacturing
For regular updates visit;  fb.com/uet.textile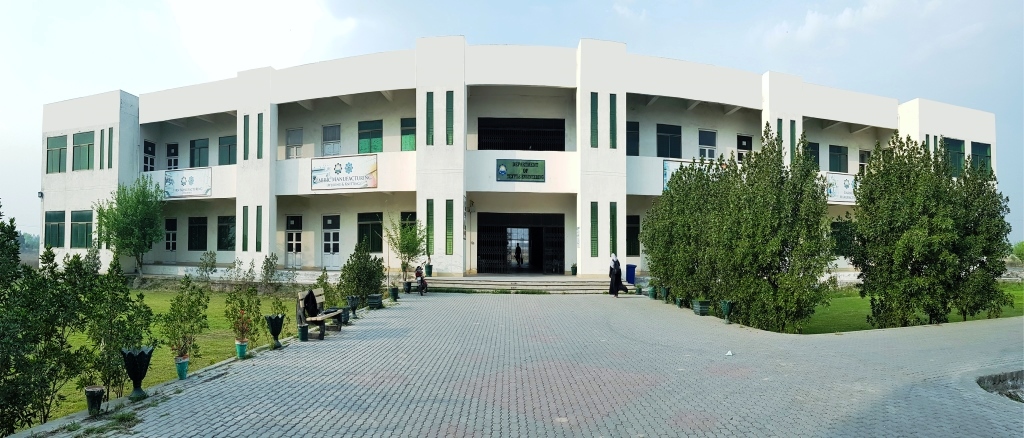 Mission;
The mission of the department of textile engineering is to prepare engineers capable of solving complex textile engineering problems, using strong fundamental knowledge and modern ideas, thus serving the national industry while maintaining the international standards
Program Educational Objectives (PEOs);

Textile Engineering graduates are expected to attain the following objectives within 3-5 years after graduation:
PEO 1: Graduates can develop and implement real-world applications making use of the fundamental knowledge and advanced ideas gained during the textile engineering program.
PEO 2: Graduates can generate innovative and sustainable solutions to complex engineering problems contributing towards the global competitiveness of the national textile industry.
PEO 3: Graduates are able to develop their careers professionally with due considerations to technological, socio-economical, environmental and ethical challenges.
Program Learning Outcomes (PLOs);

PLO 1 Engineering Knowledge: An ability to apply knowledge of mathematics, science, engineering fundamentals and an engineering specialization to the solution of complex engineering problems. 
PLO 2 Problem Analysis: An ability to identify, formulate, research literature, and analyze complex engineering problems reaching substantiated conclusions using first principles of mathematics, natural sciences and engineering sciences. 
PLO 3 Design/Development of Solutions: An ability to design solutions for complex engineering problems and design systems, components or processes that meet specified needs with appropriate consideration for public health and safety, cultural, societal, and environmental considerations. 
PLO 4 Investigation: An ability to investigate complex engineering problems in a methodical way including literature survey, design and conduct of experiments, analysis and interpretation of experimental data, and synthesis of information to derive valid conclusions. 
PLO 5 Modern Tool Usage: An ability to create, select and apply appropriate techniques, resources, and modern engineering and IT tools, including prediction and modeling, to complex engineering activities, with an understanding of the limitations. 
PLO 6 The Engineer and Society: An ability to apply reasoning informed by contextual knowledge to assess societal, health, safety, legal and cultural issues and the consequent responsibilities relevant to professional engineering practice and solution to complex engineering problems. 
PLO 7 Environment and Sustainability: An ability to understand the impact of professional engineering solutions in societal and environmental contexts and demonstrate knowledge of and need for sustainable development. 
PLO 8 Ethics: Apply ethical principles and commit to professional ethics and responsibilities and norms of engineering practice. 
PLO 9 Individual and Team Work: An ability to work effectively, as an individual or in a team, on multifaceted and /or multidisciplinary settings. 
PLO 10 Communication: An ability to communicate effectively, orally as well as in writing, on complex engineering activities with the engineering community and with society at large, such as being able to comprehend and write effective reports and design documentation, make effective presentations, and give and receive clear instructions. 
PLO 11 Project Management: An ability to demonstrate management skills and apply engineering principles to one's own work, as a member and/or leader in a team, to manage projects in a multidisciplinary environment. 
PLO 12 Lifelong Learning: An ability to recognize importance of and pursue lifelong learning in the broader context of innovation and technological developments